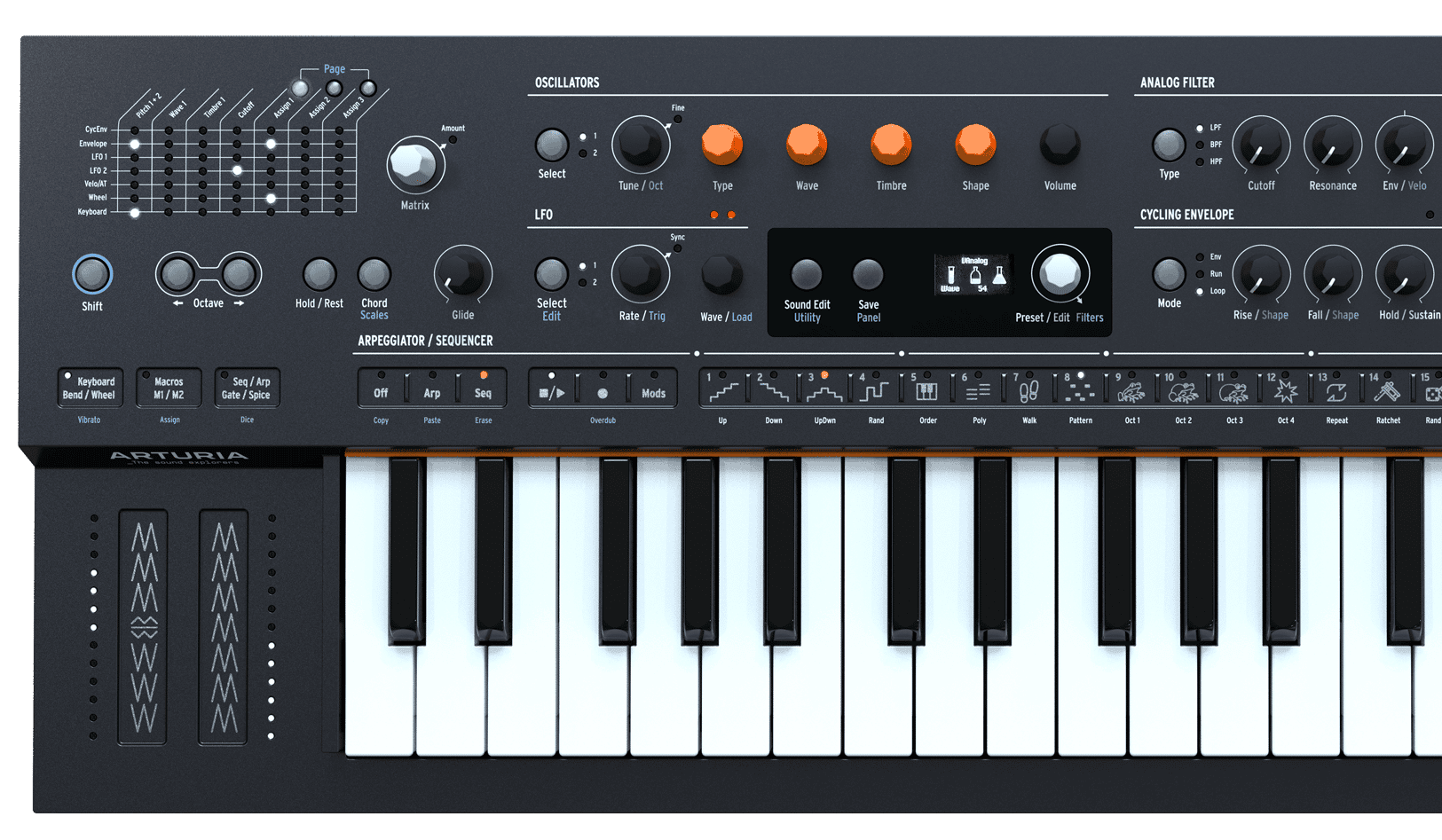 Description & Specs
Unprecedented hybrid polyphony
With over 20 modes to choose from including Virtual Analog, FM, and Additive, the interplay between MiniFreak's two oscillators can result in truly unique compound sonic behavior. With 6-voice polyphony, analog filters, and the ability to process engine 1 through engine 2, MiniFreak puts premium polyphonic synthesis exploration into a compact & tactile instrument that's as addictive as it is powerful.
Customizable & experimental sound design
Embellishing the popular Freak modulation matrix, MiniFreak gives users even more control over shaping, transforming, and evolving their sound, with features like polyphonic ADSR envelopes, customizable multi-segment LFO shapes, FM & Ring Modulation, and the familiar Spice & Dice randomization.
Mix-ready stereo sound
MiniFreak comes with stereo outputs and 3 digital FX slots with 10 FX types to choose from. From stereo-enhancing chorus, to surgical 3-band EQ, to gritty 6-mode distortion, users will have everything they need to push their sound over the edge while keeping it mix-ready.
Expression, meet chaos
Despite its penchant for wild & exploratory sound design, MiniFreak is also built as a responsive instrument of expression. Its velocity-sensitive 37-note keybed with aftertouch and spontaneous Seq/Arp functionality makes it a dream to perform with, while its randomization features and modulation lanes put playfulness and sonic momentum immediately at users' fingertips.
MiniFreak V
MiniFreak comes with a dedicated VST counterpart, letting users totally integrate its unique hybrid sound into their DAW productions and vice versa. Using identical sound engines and architecture, it offers a like-for-like virtual experience of the synth itself, at no extra cost.
Features:
6-voice polyphony
37-note velocity-sensitive Slim-keykeybed with aftertouch
2 sound Engines with 22 oscillator modes in total
Engine 2 can be used to process Engine 1
1 envelope per voice
1 cycling envelope per voice
2 LFOs per voice
Polyphonic analog filters and VCAs
3 digital FX slots in insert or send mode, with 10 FX to choose from
User-customizable LFO curves
Mod Matrix with 7 sources and 13 potential destinations
OLED display for real-
MIDI in/out/thru
USB connectivity
Sustain, audio in, and clock in/out connectivity
Stereo outputs
256 factory presets
256 user slots
Price:
Influencers